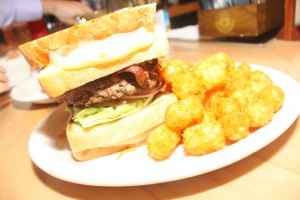 While most everything I write about in Chicago, I found myself in Scottsdale earlier this month trying to compute the caloric intake of one of the southwest's most dangerous burgers: The Sasquatch Burger. After a long day of work, me and some colleagues began to roam downtown Scottsdale for a place to drink and catch some of the NCAA Tournament. We found ourselves at The Lodge which was ironic, since I was at the Lodge in Chicago just before I flew out to Arizona.
The Lodge had a nice wooden interior with the classic antler chandeliers hanging overhead. There were people inside, outside and some electronic darts off in the periphery. The crowd was diverse agewise and otherwise and I felt right at home. Guinnesses dominated my drink selection, but eventually we got hungry. Perusing the menu, one burger caught our attention: The SASQUATCH Burger!
What is a Sasquatch Burger? Delicious. Decadent. Death-defying. I've probably run into novelty food before but after attacking a Sasquatch Burger, I've come to realize that this was some serious eating. I found out that the Sasquatch Burger could also be converted into omelet form but it was dinner time so a burger sounded just right.  We ordered our Sasquatch and it rolled in loaded up with a giant beef patty, a giant heap of bacon, tossed with a few crispy fried onion straws, and then hugged by two giant cheese sandwiches! We had to slice this demonic burger in half before we could come to grips with its reality.
The truth was that this may have been one of the unhealthiest things I've ever had the chance to consume but every bite was amazingly greasy with either the juiciness of the burger hitting you, the crisp bacon, crunchy onion straws, or buttered up grilled cheese sandwiches attacking your taste buds from all directions. The fact that I split it mitigated its deadliness only a slight bit. Now that I'm back in Chicago, I would like to have a Sasquatch Burger once again. Is there anyone in Chicago who is brave enough to make their own version of the SASQUATCH Burger?